Over the years at Junk Kouture, we have seen many weird, wacky but always wonderful designs. Every year, our judges are keen to see different materials being used by creators who are dying to break the mold and make a lasting impression. We even have a prize for this: The Most Unusual Material Award. Contestants will rack their brains to find the most startling, quirky materials and take the Unusual Material throne for that year. So, what kind of materials are we talking about here? They could be ANYTHING! Let's take a look back on some of our 2020 designs that demonstrated innovation and creativity through the fantastic materials they used.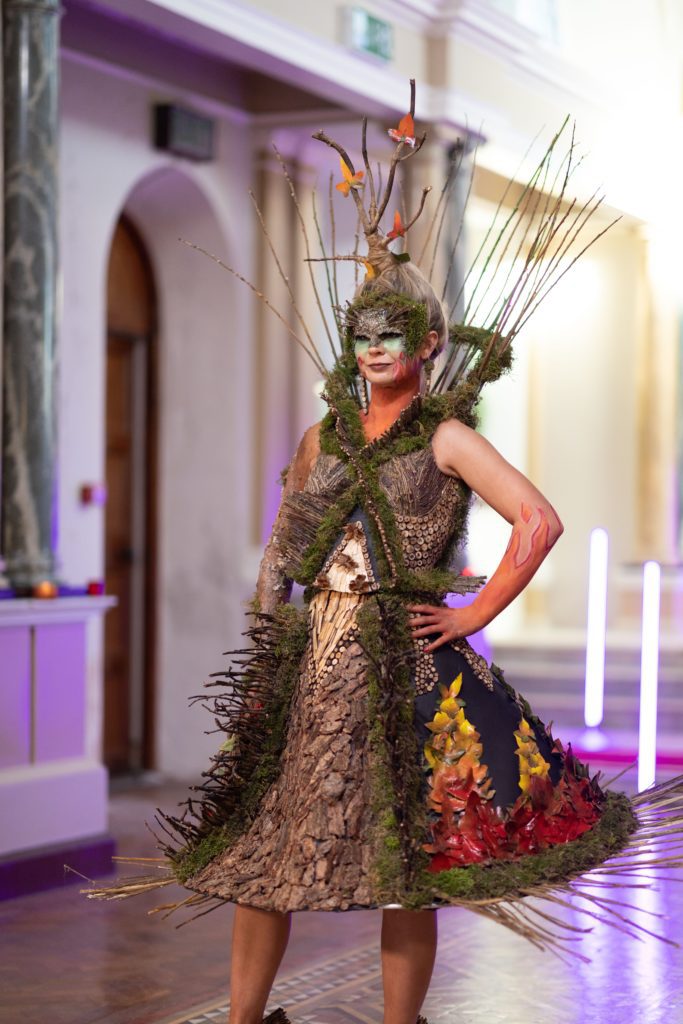 Barking Up 
The
 Wrong Tree
This unbelievable creation was carefully crafted by Kate Fitzgibbon, Sarah Egan and Rebecca Hogan from Ursuline Secondary School, Thurles and was awarded the Most Unusual Material Award 2020. Taking inspiration from the natural world and different threats to biodiversity and ecosystems, the girls collected leaves, conkers, acorn shells, twigs and moss from woodlands in their local community. The team preserved the leaves using natural beeswax and then added them to the skirt. Shells and berries were used to add intriguing texture and colour.  
Element 13 
Grace Maher from Tullow Community School wanted to spread the message of 'saving the planet' with her design, Element 13 in 2020. This entire dress was created by linking 43,846 ringpulls from aluminium tin cans together; absolutely no glue, wiring or cable ties were used. Why aluminium? It's one of the most environmentally friendly metals on the planet. Did you know it forms 8% of the earth's crust? Grace gathered her materials from her community to craft  this stunning design.  
Peace Unfolds 
This fabulous white gown was created by Sarah Tuohy, Elise Finn and Grainne McCaul from Scoil Chríost Rí, in Portlaoise. They took inspiration from the concept of peace, and deliberately made the dress a dazzling white as a symbol of harmony and tranquility. The girls gathered 120 disused, non recyclable plastic art folders from their school and began cutting, folding, stapling, gluing, ripping, rolling, and weaving to achieve the desired look.  
There are so many materials out there to be used to create something magical. It could be right in front of you! When out for a walk, sitting in school or having a bite to eat, think 'how can these materials be used to save the planet and wow the judges?  
Want to see more of our previous contestants designs, learn daily tips and tricks and stay up to date with all things Junk Kouture? Follow our Instagram and TikTok!