YMS
The world's first sport for creative teens, as they compete on global arena stages in fashion they have created from everyday Junk.
WORKING TO SAVE THE PLANET
BUILDING A DIVERSE AND INCLUSIVE COMMUNITY
Brid McSharry was tired of plastic washing up on her local beach. She wanted to make a dress that she could use to communicate this problem to her local community. She asked her school for help, the school organised for a beach cleanup, and as part of this, to segregate any blue or white plastic bags so that Brid could use them to make a dress. The result was this phenomenal dress, made entirely from old beach plastics, the dress was worn by Miss Ireland to the Cannes Film Festival in 2019. From the idea of a 16- year-old girl, a whole school changed the local beach – the education gained through the process will fuel them all to see the waste they throw away in a new light.
Over 100 SCHOOLS AROUND THE UK HAVE SIGNED UP TO JUNK KOUTURE
"I originally discovered Junk Kouture in 2014, in my first year of secondary school, Pobalscoil Chorea Dhuibhne in Dingle.  I decided to base my design on the Phoenix Cinema in Dingle, which has been in my family for 40 years. I spent a year on my design. The basis of my design was film trailer reels, VHS tapes and DVDs, all redundant, but waiting to be used! I crocheted, loom knitted, wove, and quilled these all together to make my design. I entered in 2019 and had a great time both at the live events and online, interacting with other contestants. I made so many friends and my self-confidence grew, as I never had something growing up that brought me together with so many likeminded people as Junk Kouture. I'd recommend Junk Kouture to anyone, as the minute you've entered, you're already a winner, and have achieved so much."
– MAXIM O'SULLIVAN 
MORE TO BE ANNOUNCED SOON
My design is inspired by 60s and 70s rock'n roll artists like The Rolling Stones, David Bowie, and Queen. The entire outfit is exempt from glue and is 100% crafted. The trousers took 3 months to construct and the patterns on my jacket and jeans are my own. I'm reflecting on the changing world of music by remembering the legends I'm inspired by.
– GEORGE HOUSTEN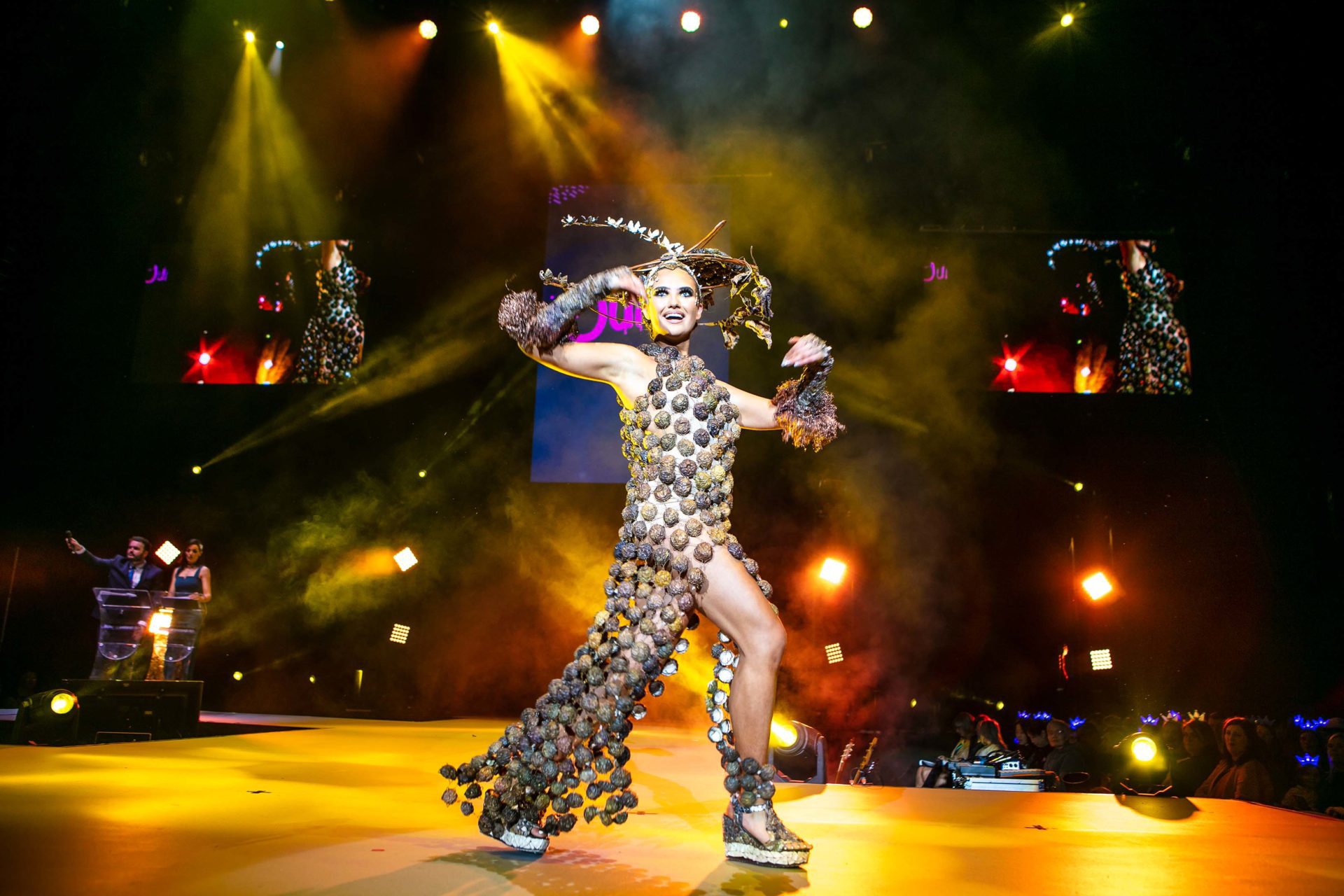 Passion for fashion is a fun, fruity dress made entirely out of passion fruit skins! And it's not just a waste of money, it's also costing the earth. Food waste sent to landfill does not harmlessly break down but instead releases methane, a greenhouse gas 25 times more potent than carbon dioxide. My design showcases how you can turn food into fashion!
Competing in Junk Kouture has been a dream of mine since I was a child and it will be an experience I'll remember from transition year.

- EMMA KELLY
Inspired by Spanish designer Loewe, famous for its prime craftsmanship, this ensemble has an important message, has anything in life ever got it's claws into you & taken over your life, your every emotion, feeling powerless. These are the words GAA footballer Oisin Mc Conville used to describe the secretive gambling Addiction he had. Touched by his story & recovery this team wanted to display the effects gambling can have on a person & to know that talking out & seeking help no matter what the addiction is always going to make you feel better.This design has an unwavering confidence about it.
– NATHAN MC KENNA
The outfit combines a sharp, angular coat with a softer, feminine dress. I want to raise awareness about women in STEM: Science, Tech, Engineering, Maths. The dress part is made from t-shirts and net fruit & veg bags. Techniques used include weaving, sewing, embroidery, crochet and origami. The coat is constructed from toothbrushes drilled and tied together to form equilateral triangles. These reflect equality. Triangles are the strongest shape, representing the strength of women in the world. The hat complements the triangles with the feminine flowers. The design displays power and elegance.
– SARAH LANE
WANT TO HERE MORE ABOUT JUNK KOUTURE?