Creativity, Fashion and Change 👗🌎
On Wednesday 11 October, we were delighted to team up with Brent Council and host 'Creating Change' – an event that brought young people, Junk Kouture alumni and fashion designers together showcasing recycled couture designs and ethical fashion.
The event was hosted by Mariah Idrissi and featured Katie Brill (Head of PR & Comms – Junk Kouture), Kamila Erkaboyeva, Cultural Lead for Cultural Fashion and Arts  and Shilpa-Bilimoria Cherry House of Bilimoria (Founder – House of Bilimoria) as panellists.
Along with this, JK design teams Soaring High (UK) and Love and Death (UAE) showcased their wearable art, and talked about their very own creative journeys.
Our Junk Kouture team have been working with Brent Council to deliver sustainable fashion workshops across Brent schools recently.
Designs showcased on the day: Gifted, Storm Ophelia, Friends Furever, Tarbh na dTonnta and Braziliana.
#junkkouture #sustainablefashion #EthicalFashion #ClimateChange #FastFashion #ChangingTheNarrative #youth #youngpeople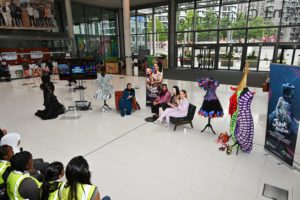 —
Meet the Panelists:
Mariah Idrissi is a British model, public speaker, and online personality. She initially gained recognition as the first Muslim hijab-wearing model when she appeared in H&M's "Close the Loop" campaign in 2015. She is a leading voice on "modest fashion" and she is passionate about sustainability within the fashion industry. In an interview with Grazia magazine, she said: "As a Muslim, I feel great responsibility to do my part in taking care of the planet."
Kamila Erkaboyeva is an interior architecture graduate and passionately promotes her Uzbek and Uyghur culture and roots through her art work. She has recently been appointed as a Cultural Lead for Cultural Fashion and Arts providing insight and consultancy to ensure Uzbek representation and participation. She also works on sustainability and fashion in relation to her cultural arts projects.
Shilpa-Bilimoria Cherry is the founder of House of Bilimoria, a luxury clothing brand with a focus on up-cycling and bespoke, custom-made clothing for women, children and brides. Shilpa believes it's important to create a sustainable, ethical brand with a focus on empathy for people from all walks of life. She embraces her Indian and Gujarati heritage in her work.
Cllr Krupa Sheth Cabinet Member for Environment, Infrastructure and Climate Action – Brent Council
Katie Brill a former contestant and award winner of Junk Kouture with her design made from orange peel 'ReJuicing is Appealing' in 2012 and now part of the JK team as SVP of PR and Communications. The experience was life-changing for her and helped her build confidence and problem-solving skills. She is now committed to expand the mission of Junk Kouture and to inspire/empower more young creatives across the globe.